Pat Braden - Bassist, Stickist, Singer/Songwriter, Spoken Word Artist
Welcome!
In the following pages and posts, you will find pretty much the complete story of Pat Braden, Bassist, Singer/Songwriter and Storyteller, starting from his early days playing Electric and String Bass with high school concert and big bands, community choral and theatre productions, jazz , blues, rock and country bands, from Blues men to Metis fiddlers, from folk singers to throat singers, on the stage or in the studio.
In addition to his Bass skills, he writes, records and performs his music on the Chapman Stick ™, a Guitar/Bass hybrid that expands his contribution to the arrangement of a song by adding subtle, chordal pads or melodic, rhythmic parts on the five guitar strings while playing a bass groove on the five bass strings.
He has released 3 CDs as a Singer/Songwriter, a Storytelling CD of northern fables and a live CD of his first 90 minute solo Storytelling performance. All of these CDs are available to stream from the "Recordings" page on this site. Most recently, he released a live DVD of his second solo Storytelling performance.
If ever you wanted a glimpse of life in Canada's north, writer and storyteller Pat Braden will give you a captivating view. He weaves story into song, song into story, sometimes spoken word resonating over a textural bed of music, a rolling chord pattern or a shimmering soundscape generated on The Chapman Stick which, like northerners, may seem somewhat extraordinary.
with New North Collective, Shadbolt Centre for the Arts, Nov. 2, 2017
Through the hard work of producer/manager/agent for the New North Collective, Debbie Peters of Magnum Opus Management, the NNC were hosted by the Shadbolt Centre for the Arts in Burnaby, BC to hold a 4 day residency followed by a performance in early November.  This venue is well known to most of us as we have each individually showcased there for Pacific Contact Music Conferences over the years and it is really a most amazing arts facility in its programming and in the surrounding gardens and natural areas.  The NNC had been looking for a venue and time to hold a residency and with relatively short notice, The Shadbolt Centre stepped up to help us.
A few of us landed there on Monday morning to settle onto the rehearsal stage.  Our resident guitarist, Jan de Vroede was unable to join us for this show so we called in Eric Reed from the territory of north Vancouver to sub.  The Centre graciously offered up first rate sound tech, Russ, to work with us for the whole week, so we were working with some new faces right away.  The first day, we worked through the sets with Eric.  Through the second day, the rest of NNC dropped in as they arrived from various destinations, we re-arranged the guitar section, tweaked a few tunes here and there and spent day 3 with Diyet, running the show down a couple of times.  Day 4, Thursday, we seamlessly set up in the theatre and with all of the work Russ had done with us through the week, we were able to dial in a superb stage and room mix.
We played one of our best shows ever that night to the folks who braved a rather snarly weather system to come out.  A special night for me as my Partner, Laurie and Daughter Jazzan and her fiancé, Sam came out to see the show as did relatives close to Carmen's family as well.
I will close this post echoing the social media post Debbie wrote:
"Grateful sums up the feeling of our week at the Shadbolt Centre for the Arts and on a stormy night, we finished up our residency with a show we are all very proud of. Thanks Eric Reed, you are a generous musical soul. Thanks Cory Philley for the invite. Russ, tech extraordinaire made us sound great. The Staff and volunteers were so helpful and what an amazingly warm audience! Thanks for sharing Our Northern View from Carmen Braden, Diyet Music, Robert van Lieshout, Graeme Jacob Peters and Pat Braden #MaverickArtists"
with Willie MacAlder, Oct. 2017
I have posted about the many times I have played with Will MacAlder over the years.  We first played together in the Cave Club back in the mid 90s.  Since then, Norman Glowach and I have tried to bring Will back as often as we can to play with him.  His repertoire is mostly Jazz and Blues standards, the styles of music Norman and I cut our teeth on but so rarely have a chance to play anymore.  This year we played 3 gigs; the first,a Yellowknife Seniors fund raiser, the next night at the Cellar and after we finished recording, at the Old Town Woodyard Pub.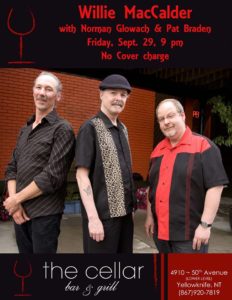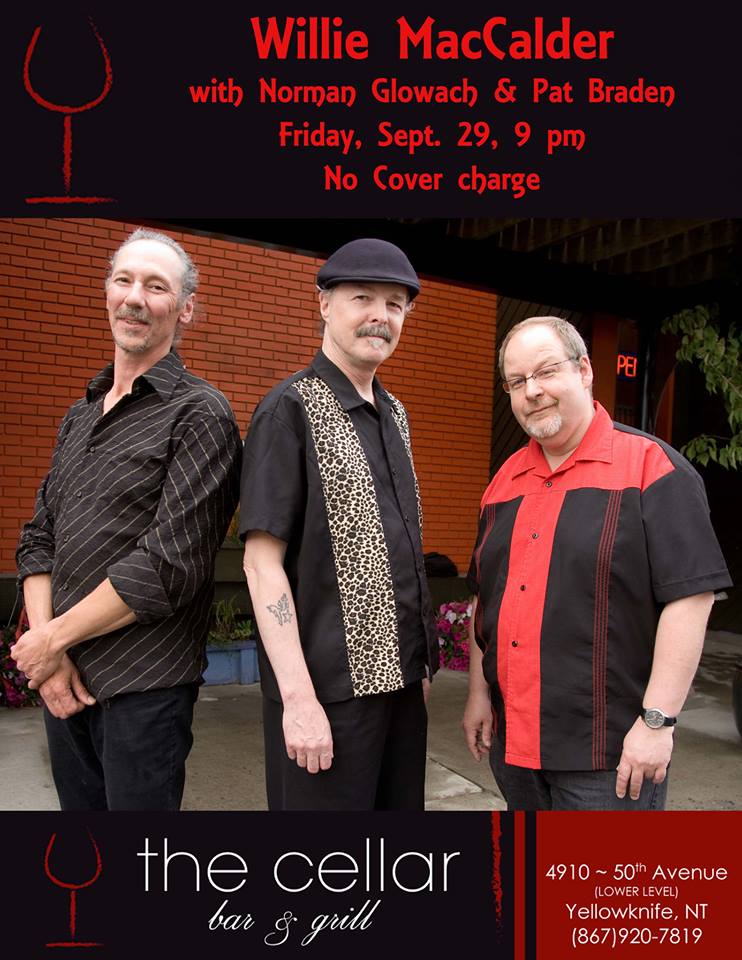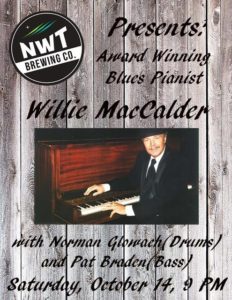 In the summer of 2016, we recorded a couple of songs with Will and they sounded so good, we decided to carry it one step further.  With funding support from the NWT Arts council, we were able to work in Norman's Spirit Walker studio for 10 days and laid down 12 tracks of covers and original songs.  I love the challenge to play the Bass part for a song written in a specific genre and to play the style of that music, always keeping in mind to support and compliment the singer.  It was a real treat to hear the playback once Will had laid in his vocal tracks that for me, really sell the authenticity and passion we have for this music.  It is still a work in progress, waiting for overdubs from some solo players and I sincerely hope that someday soon, I can write a post to let you know that this recording is out and on the airwaves!