About Pat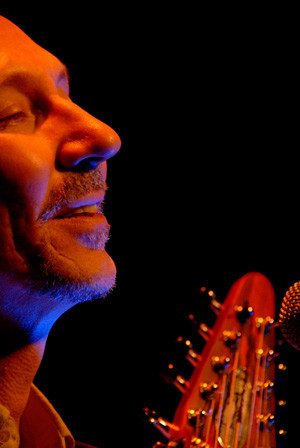 Pat began playing the Bass in high school bands, local bars, community theatre and choral productions in the late 1970s and went on to study String Bass at Grant MacEwan Community College in Edmonton into the mid 1980s.
He returned to Yellowknife in 1984 to perform with a myriad of both touring and northern artists and bands, in the studio and on territorial and national stages.
Two significant events in 1988 defined his future musical path; he became a Dad and picked up a Chapman Stick™.  He did not however, give up his basses and continued to play as a sideman for many touring artists performing in the north.
Pat has supported, recorded and performed with northern aboriginal artists Leela Gilday, Tanya Tagaq and DigaWolf. He has also been a sideman and headlining artist at CBC "True North" radio and television productions in Iqaluit, Whitehorse, Kugluktuk, Inuvik, Yellowknife and Oujé-Bougoumou, PQ.
Pat wrote and recorded his first Stick album Debut in 1991, followed by Listen to Your Heart in 1994. He continued to write material for northern based radio and television productions which aired on regional and national networks from 1991 to 2000.
Pat began his journey into storytelling in 2003 when he produced a CD of six northern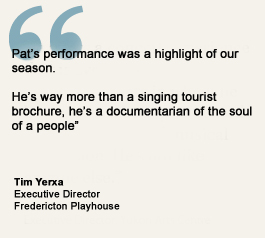 children's stories titled, From the Fire which emerged from creating bedtime tales for his 2 young daughters.
Over time, Pat began telling his stories at Yellowknife's Festival of Stories and the Yukon International Storytelling Festival and thus began his introduction into the art of storytelling performance, culminating into a solo performance piece titled, A Place to call Home, a 90 minute montage of stories and songs, reflecting on growing up in the northern mining town of Yellowknife, NWT. Braden speaks to places such as the family cabin where he grew up and "the shacks and shanties of the Woodyard" in the Old Town of Yellowknife. He speaks to the northern lights, the bitter cold, the endless days of summer and the migrations marking the passing of the seasons. Pat sings of the people in his community, the eccentric characters, musicians and old timers who lived in those old town shacks and of friends, family and loves, celebrating their influence on his life. He weaves story into song, song into story, sometimes the spoken word resonating over a textural bed of music, a rolling chord pattern or a shimmering soundscape, generated on the Chapman Stick™.
He is a storyteller and songwriter who weaves his soft-spoken voice with textual musical elements to paint exquisitely beautiful images of the land and of the people of his own "Place to Call Home."
February 24, 2012, marked the debut of  Shack Tales, a 72 minute storytelling / musical-theatre sequel to my first show, A Place to call Home, Shack Tales is a reflection on and a celebration of life experiences in the town where I grew up and raised my own family. Shack Tales praises life in Yellowknife's Old Town and the lives of Old Towners who, while carving out a life for themselves and their families, became legend.  Shack Tales pays tribute to Yellowknife's colourful history, to generations – past, present and future and to any place where we choose to plant our roots, to raise our families and to grow old."