with New North Collective, Alberta tour, "Available Light and Film Festival", Whitehorse YT Jan. – Feb. 2017
The day after Carmen's Calgary CD release concert, we met up in the lobby of some hotel, piled into 2 mini vans and started out on a 5 day tour to Camrose, Medicine Hat, Lethbridge and Banff, Alberta.  The Camrose shows were pretty cool. We were commissioned by the Augustana Campus (U of A) to write a song about reconciliation, perform it with the Augustana Campus 18 piece choir and to take part in a reconciliation workshop.  We wrote, "Add Your Voice to the Song"and the choir joined us for our show in Lethbridge as well. Here's a link to the video:
We certainly put on a few kilometers on the trip back and forth across the sleepy, winter prairie landscape.  At every stop, we played in such beautiful venues with top shelf tech crews.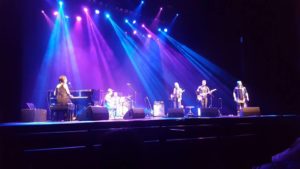 When we arrived to play our last show in Banff, we were asked to collaborate with a visiting show from Australia called "Black Arm Band". While we were setting up, they arrived in the theatre and I looked up at one point, to see one of the band members standing right in front of me, with his cel phone facing me, showing a picture of him and I about 4 years earlier in Iqaluit, NU, where we were both playing the Alianait Festival.  My friend Jupuru got to jam out on his didg on one of my tunes and between the two groups, we put together a stunning vocal treatment for one of their traditional pieces.  It is always such a treat to just be at the Banff Centre and a privilege to perform there.
After a week back home, the New North Collective gathered again in Whitehorse, to perform at the Available Light and Film Festival.  This show was the debut of 5 of our songs along with visual projections we collected from each territory.  With contributions from;  Jay Bulckaert, Pablo Saravanja at "aRTleSS Collective", a collage of landscape photos from the band along with the extraordinary talented overhead projection artists Barbara Hinton and Lia Willims and the animation wizardry of Aidan Kenneth Cartwright,.  The show was performed on the most amazing Yukon Arts Centre stage, with yet again, stellar tech and stage crew.  A great chance to collaborate with these brilliant visual artists from the NT and YT!
"Hangin' with the Con Kids" video release
The story behind the song and video;
Back in '08, I was writing stories for a show I was putting together called, "A Place to Call Home" a collection of songs and stories about growing up in Yellowknife in the 1960s and 70s, the characters, the town, the environment.
Much of my youth was spent biking or trudging through the snow to a friend's house, maybe a half mile away the Con Mine townsite, a gold mine that had produced many bricks of gold since the early 1940s.  The town of Yellowknife at that time was the newly declared capital city of the NWT which also included the territory now known as Nunavut.  Something like a million square miles of lakes, rocks, bush and ice and not a lot of people.  For the previous 20 plus years, Yellowknife was a mining town with Con camp on the south side of town and Giant Mine on the other and a few others that had closed up by the time my family arrived in '64.  Also, the town was expanding from its Old Town beginnings to accommodate the influx of government workers, building houses, apartment buildings and other infrastructure to govern the territory.  So, as kids, there came to be these labels depending on which part of town you were from, you were either an old town, new town, Con or Giant kid and this fed many a sporting rivalry in the community and led to a few bloody noses on the school grounds.
In my many years of living in Yellowknife, I am even today, taken aback by the cultural diversity in this town of 20,000 or so folks.  I recognized that much of this diversity came from the mining camps and the miners who relocated here from around the world to live, work and raise their families.  I went to school with kids from Asia, Africa, Europe, Australia, take your pick of countries, ate their foods, heard their native tongue, enjoyed their traditions and their musics.  I also recognized that many of these folks came from places in the world where they were much worse off than they were here.
With all of this in mind, I wanted to write a piece in homage of what these mining camps gave not only to me but also to the community.  So, I wrote a piece called, "Hangin' with the Con Kids", a rolling narrative of my carefree youth in a day spent riding my bike and getting into mischief in Con Camp with my Con Kid friends.  The piece was very well received when I performed it at the CD release show at NACC in 2008 and t many shows since. My friend, Besart Hysniu stepped in to master the live recording from the 2008 solo show at the NACC.
Awhile back, my friends Gary Milligan and Terry Woolf, both long time videographers, decided to produce a video of "Con Kids".  Gary the most enthusiastic as he himself was a true Con Kid.  Every few months, I would get to see a snippet of what they had put together.  Recently, the NWT Mining Heritage Society most graciously stepped in to fund the last of the editing required to finish it up, just in time to be premiered at the Yellowknife International Film Festival in October of 2016.  It was a very proud moment to be in the audience that day watching Con Kids on the big screen.
Have included a couple of photos of Isaac and Dominique who graciously served as our youthful stand-ins;
I could go into a lot of reminiscing of what those days and this video meant to me but respect that we all have our own respective memories from those youthful years so I leave it to you, the listener to take your own journey as you listen and watch "Hangin' with the Con Kids".