It is a very rare occasion that I am asked to play a house concert.  I think I am getting better at it.  The intimacy can be intense but once I am into the set and find my zone, all seems to go swimmingly.
This past summer my daughter invited me to her new home in Golden BC for a week or so at the end of July.  My partner Laurie and I treated ourselves to the most excellent Peter Gabriel – Sting concert, "Rock. Paper, Scissors" show in Calgary then jumped the Greyhound into the Rockies the next morning.
My daughter had been planning for me to play a Garden concert in her backyard for the later part of the week. We rented a sound system the day of, set up the stage on the patio complete with thrift store fabric back panels.  The folks she had invited started to show up at around 7, about the same time as a sun shower rolled through, luckily, lightly and quickly.  The thunderstorms continued to roll around the valley and the outskirts of town but left us alone for the rest of the night.
I put in a solid set after what had been an extended absence from performing.  The garden listeners were engaged and seemed to appreciate what I was putting out.  It must have been one of the most recorded shows I have done in a long time.  My daughter, who recorded the show with 2 go pros and a DSLR camera and recorded onto her Zoom recorder.  She works with Maur Muzza Mere, another photographer for Heather Mountain Lodge and he was all over the place catching shots from different perspectives. These are his photos;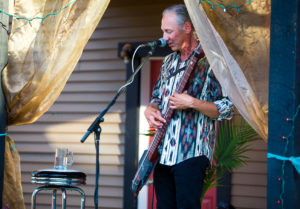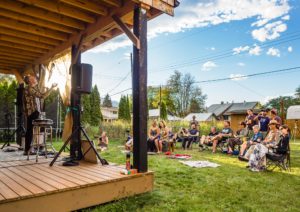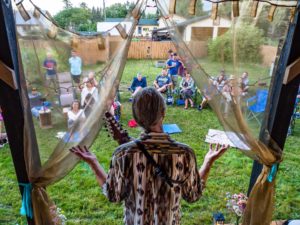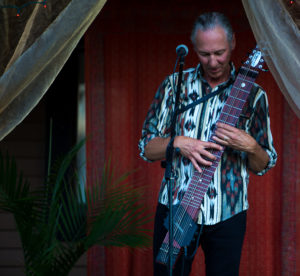 I always enjoy the post show discussions with the audience.  Almost always to complete strangers who will never meet again but both enjoy the moment of interaction.   As it got darker, Josh, another of my daughters co-workers, put in a spirited set of acoustic blues. The fire died down, the mosquitoes came out and we called it a night.