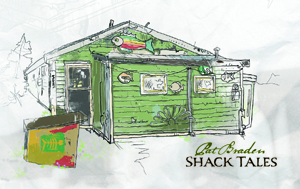 (DVD release)
"Shack Tales praises life in Yellowknife's Old Town and the lives of Old Towners who while carving out a life for themselves and their families, became legend.  Shack Tales pays tribute to Yellowknife's colourful history, to generations – past, present and future and to any place where we choose to plant our roots, to raise our families and to grow old."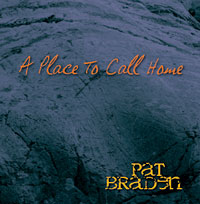 (CD release)
"A Place to call Home" is a 90 minute montage of stories and songs written and performed by Pat Braden, reflecting on growing up in the northern mining town of Yellowknife, NWT.  Braden speaks to places such as the family cabin where he grew up and "the shacks and shanties of the Woodyard" in the Old Town of Yellowknife, describing them within the context of the northern lights, the bitter cold, the endless days of summer and the migrations marking the passing of the seasons. Pat sings of the people in his community, the eccentric characters, musicians and old timers who lived in those old town shacks and of friends, family and loves, celebrating their influence on his life.
Now and Then
These songs were recorded during the long, cold, intense winter of 2006/07 in an empty church here in Old Town that has since transformed into an art gallery collective.  My good friend John Telgen graciously endured the less than optimum studio conditions, laying down the drum tracks.  Later, I sent the tracks to Nathan Tinkham on the Gulf Islands to add some slide / lap steel guitar parts.  That's my daughter Jazzan singing with me. I had always thought these were country songs and I wanted to surround the Chapman Stick with genre -ically similar instrumentation.  I never did properly release this collection as they shortly afterward became the backbone of my first show, "A Place to call Home".  A couple of these songs have not even seen the light of day until now.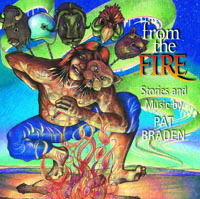 From the Fire
A collection of northern fables, inspired by telling my daughters bedtime stories. Stories and orchestration written by Pat, narrations by: Heather Murdoch, George Tuccaro, Erica Tesar, Francois Paulette and Diane Brookes.
Listen to your heart
Recorded at Kootenay Mountain Sound studios, Nelson, BC,Sept. '93 – June '94, mixed at Pido Productions, July '94, Yellowknife NT. Supporting players: Pauline Lamb, Greg Kozak, Peter Hartley, J. Greg Walter, Bo Conlan, Marvin Walker.
Debut
Chapman Stick / synth sequenced 80's inspired techno pop with lyrics riding the environmental/political edge of the times. Recorded at Spiritwalker Studio, Yellowknife, NT, September, '91
A Place to call Home and Pat's three previous CD releases are available in stores in the NWT; digital downloads are available through CD Baby and iTunes and from Pat at: bradenpat@gmail.com
"Shack Tales" DVD is available only by mail order or in stores in the NWT.  (see December 2012 post on home page for details)