Reviews/Press/Testimonials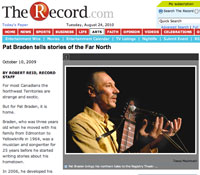 By GABRIEL ZARATE, SRJ Reporter 11.JUN.08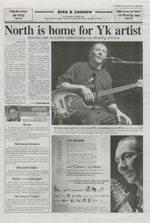 TESTIMONIALS:
"Without exception, the response to your show was very positive…… Your performances certainly exposed people to something that was new to them, and judging by the response, greatly appreciated."
Richard Stoker
, recently retired Manager of Programming and Promotion for Newfoundland and Labrador's Arts and Culture Centres  
"We were thrilled to have Pat perform his one-man show "A Place to Call Home" at the Fredericton Playhouse. Our audience was spellbound by Pat's enchanting style and the substance of his musical accounts of his life in the north. Pat's performance was a highlight of our season. People are still talking about their encounter with a piece of our national culture that every Canadian should have the opportunity to share. He's way more than a singing tourist brochure . . . he's a documentarian of the soul of a people."
Tim S. Yerxa
, Exectuive Director, Fredericton Playhouse Inc.  
"Pat is a gifted performing artist who has much to share with audiences in every part of Canada.  His stories and music takes audiences on a cultural adventure that is very authentic.   There are not many performing artists touring today that have such a unique product."

Joanna Maratta
, Executive Director, BC Touring Council  
"Pat weaves Natural stories of his home and landscape that resonates so personally that someone living on the moon could feel and smell and sting of the wind  of the Great Northwest Territories. Pat is simply chamber music storytelling for the serious listener."
Tim Perez
, Artistic Director, Vancouver Storytelling Festival, 2009  
"His lyrics touched the audience with their potency and authenticity. In addition to being an excellent musician, lyricist and communicator, Pat was a joy to present. Pat not only offers a remarkable glimpse of the lives and stories of people in the North but he accomplished this through very fine musicianship.  I would highly recommend Pat as a performer and educator. He would be an artistic asset to any festival or event and is a true treasure from Canada's North."

Melanie Fernandez
, Director, Community and Educational Programmes Harbourfront Centre  
"Watching Pat Braden perform is like taking a slice of the northern lights and finding yourself mesmerized by the music he paints and very much alive because of the stories he tells. His tales are personal inroads into places and characters that most Canadians only imagine as being somewhere north of Young and Bloor – yet he makes them personal, accessible and hauntingly attached to you for months afterwards.  With the skill of a gypsy who weaves magic and draws you in until he decides to let you go – an evening with Pat Braden, his stick and his stories are something to be experienced and changed by."

Ben Nind
, Executive and Artistic Director, Northern Arts and Cultural Centre  
"I first saw Pat Braden at the Equinox Festival in Whitehorse.  The combination of storytelling and the songs so fascinated me that I, on the spot, decided to present a new Series:  Voices of Canada…telling our own stories.  Pat was the first performer in this Series (which is now entering its 3rd season). Pat is one of the few artists that I tell me colleagues NOT to miss — both encouraging them to see his showcases, and to book his show as well; including the excellent outreach activities that he can do — for adults and for young people, in storytelling, bass, and Chapman stick. Whenever I see him perform, I always watch the audience—no matter their age, they are glued to the stage, and are transported to wherever Pat's story is taking them.  Anyone who sees him has a whole new respect for storytelling, and wants more."
Peter D. Smith
, General Manager, Imperial Theatre, Saint John, NB  
"Pat Braden creates compelling stories that evoke the beauty, depth and rich experiences of the Northwest Territories.  His stories/songs are stunning narrative paintings of the land, the people, his friends and family.  We sat on the edge of our seats as we were drawn into the stories and his relaxed, quiet presentation.  There's no better ambassador for the Canada's north than Pat Braden."

Jerry Yoshitomi
, Chief Knowledge Officer, MeaningMatters, LLC  
"In Pat's hands, the words and music combine to create worlds of images and sounds that capture life in the north and make it come alive for audiences. When he performs, his stories and music take on a larger, deeper aspect that comes from sharing them with others."

Peter Skinner
, Network Performance Producer, CBC North Radio