Back in the spring, I got an invitation from the Association franco- culturelle de Yellowknife (http://afcy.info/en/events/chantouest-2017-yellowknife)  to play in a house band for Chant' Ouest, a competition of Francophone singer/songwriters in western Canada.  The four contestants were; Byrun Boutin-Maloney (SK), Mireille Labbe (YK), Yves Lecuyer, (TNO) and Alpha Toshineza, (MB).

I am embarrassed to say that my French language skills are miniscule.  When I was in elementary school in the 70s, we had a French teacher every year, well, a different French teacher every year and we were always taught the same thing over and over.  It wasn't until I went to high school that I had a passionate teacher of the French language by the not so French name of Jack MacDuff.  I was inspired to sign up for the elective class from his enthusiasm and also the fact that the only two guys in the class were myself and my buddy Dean.  After high school, I was immersed in the language of Jazz and thus never carried on learning the French language.
So, my first question to the Jessica Payeur, producer of the show, was how much this would be a liability for the show and she reassured me that I should not worry about it.  After some research, I learned Chant' Ouest has been going for 15 years now, holding the competition galas in various towns and cities in western Canada.  I was also pleased to learn that Winnipeg drummer extraordinaire, Daniel Roy was to be musical director for the show.  I met Daniel many years ago along with Bassist Gilles Fournier when they were up in YK for a show.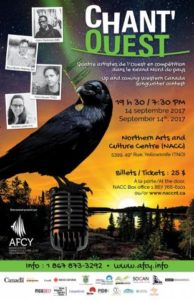 Daniel sent me the recordings and charts for the songs each songwriter was bring to the show.  The stylistic range was broad ranging from hip hop to country/folk to epic Quebecois anthem rock to turn of the century ballads.  Daniel, Raphael Freynet, Mary Kelly and I met up one soggy September afternoon at Mary's place to run through the songs.  I loved Daniel's enthusiasm and the chance to work with Raphael and Mary.
The next day, we pulled into the NACC to set up.  I walked through the door to see a very familiar face at the helm of the CBC Radio-Canada recording unit although it had been better than 30 years since we had last seen each other.  Dominique Roy and I went to Grant MacEwan College together in the early '80s and played in a few of the same college big bands.  All we could do was to shake our heads at how the years had flown by so quickly.
The next 4 days were a blur of long and intense rehearsals.  House band, artists and tech all worked hard through the week to pull the show together.  I was most impressed by the tech crew who seemed to be everywhere at the same time and immediately on any issue that came up.  By show time Thursday, we put on one hell of show!